Archive for March, 2018
March 29th 2018
Posted under Uncategorized
New asphalt coat & paint striping on our parking lot! MM Good!
March 29th 2018
Posted under Uncategorized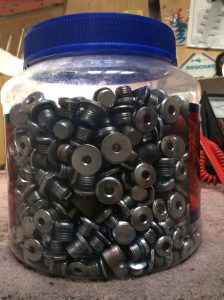 Most are either 3/8″ for L.P. 7/16″for H.P. & 1/2″ for the classics on older U.S. Divers and duty built Dacor. Mostly chrome plated brass but there are Titanium & Aluminum as well. Some same sized port plugs take different size O-rings, have different O-ring lands & overall differing depths! Use caution mixing & matching between manufacturers. This photo represents longevity, we know not many Dive Centers can produce a supply quite like this!