Posted under Uncategorized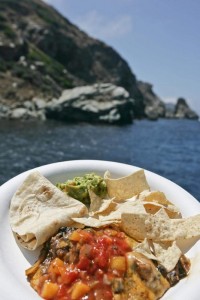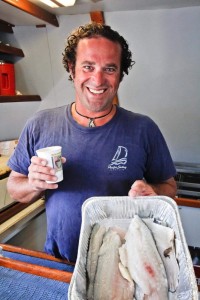 Awesome voyage to Catalina this past Sunday aboard the mighty Sundiver. The smooth crossing, warm clear water & awesome food made the trip Epic! This charter featured the "Scuba Chef" Trevor Cook!  "From the swim step to the galley" is one of his monikers & he stood by his word getting in the water, bringing back fresh Calico bass, preparing it then serving it up! Also Chicken Molle, fresh guacamole, salsa & tortilla's. Breakfast was more typical but less greasy than most galley's fare with scrambled eggs, hash brown & thick bacon. West end water was up to 70 degrees & around 40ft. blue water vis.  Eating & diving we got in three dives all on the west end.
3 Responses to "Epic Scuba Chef Trip!"
cesar on 14 Jun 2012 at 3:05 pm #

How about diving with your veeesh??

Trevor Cook on 21 Aug 2012 at 2:40 pm #

I had a great time with everybody that came out on the Scuba Chef trip on the Sundiver.

We got plenty of fresh fish and everybody on the boat got to enjoy the bounty.

Please join us next trip.

The Scuba Chef

https://vi.gravatar.com/homecarevietnams on 19 Sep 2020 at 1:19 pm #

Great items from you, man. I have take note your
stuff prior to and you're just extremely
great. I really like what you've got here, really like what you are stating and the way through which you
assert it. You are making it enjoyable and you continue to care for to stay it smart.
I can not wait to read much more from you. That is actually a great website.
Leave a Reply